Shanghai Hanyan Intelligent Technology Co., Ltd. established in 2011, is a high-tech and professional company that integrating smart meter R&D, design, manufacture, sales and service. The company has high technology talent of intelligent instruments, automatic control, communications, electronics and other professional fields.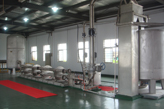 Company products include intelligent electromagnetic flowmeter, intelligent electromagnetic heatmeter, and intelligent analysis instrumentation. These products are unique and innovative designed which breaks through and enhances the functionality and performance of common smart meters, have the quality that surpassing many well-known manufacturers' smart meter level, and have reached the products standards of many international brand manufacturers.
Shanghai Hanyan Intelligent Technology Co., Ltd. adheres to the philosophy that technical innovation services market and that product quality services customer. Through continuous product development and technological innovation, continuously improve product functionality and performance, Hanyan is dedicated to the revitalization and promotion of Chinese automated instrumentation brand.